This page has some articles from recent tours, concerts & CDs..


< To Home page
From the Cambrian News, 02/04/2015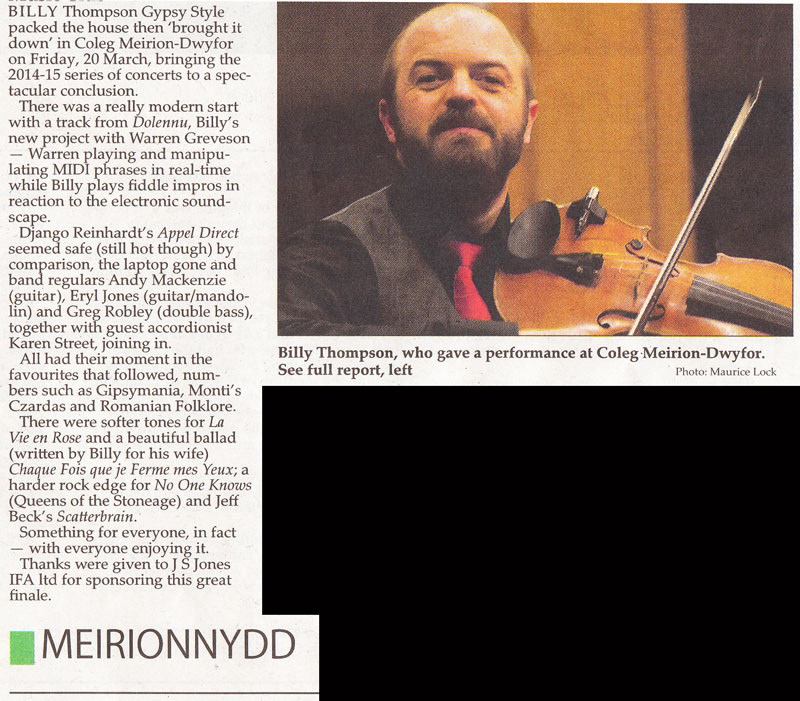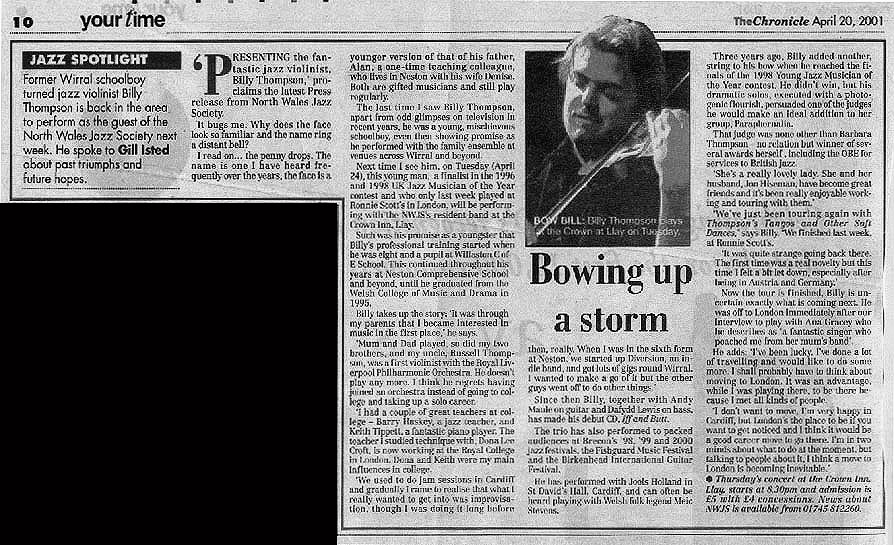 NB. Billy wishes to make clear that the bit about Ronnie Scott's must have been a misunderstanding on the part of the reporter.
---
Mike Westbrook's Glad Day Live

Review by Richard Williams for The Blue Moment

... The audience remained silent between the individual pieces, reluctant to disturb the mood, but the dramatic conclusion of "The Poison Tree", on which tango rhythms propelled Kate's bitter vocal and Thompson's dazzling fiddle solo, provoked spontaneous cheering...

... Nothing was more quietly electrifying than the transition from Minton's open-hearted vocal to Thompson's spirit-possessed violin which led from "The Fields" to the concluding "I See Thy Form"...

Review by Chris Parker from London Jazz News

... Impeccably played by Karen Street (accordion), Billy Thompson (violin), Steve Berry (bass) and Mike Westbrook himself (piano), and with the Queldryk Choral Ensemble directed by Paul Ayres providing stirring vocal support...

All reviewa in full here...

Mike Westbrook's Glad Day Live DVD/CD

5-star review by Karl Dallas from the Morning Star

... Westbrook has always supplemented his own musical brilliance with remarkable musicians, and this recording is no exception, from the gypsy violin of Billy Thompson to the accordion of Karen Street, who sounds like a bal-musette on acid...

Review by Andy Robson for JazzWise

The choir's youth, in angelic contrast to the band's embodied experience, is fantastic: like a theatre chorus they guide our emotion as they witness with awe Thompson's ecstatic anger on 'Let The Slave' or Street's lyric melancholy on 'Holy Thursday'. In a world that puts a price on everything, this music, this vision remains priceless.

Review by Chris Searle for the Morning Star

... Thompson's violin cries out in outrageous beauty as Minton sings of the freed slave, "his chains are loose, his dungeon doors are open... for empire is no more."

Blake's contrasts are harmonised in The Tyger and the Lamb firstly by Berry's pulsating, delving bass and then by a host of women's voices and the power of Street's astonishing accordion.
She [Karen Street] is there too at the outset of A Poison Tree, spectral, menacing and full of portent before Kate's own ominous vocal and Thompson's grim, dancing solo.
The blues are in Whitechapel and all through Long John Brown and Little Mary Bell, Minton's growling voice and Westbrook's aching piano tell the story of the Devil's spoliation of love before Thompson's bow adds its shimmering tailpiece.

Berry's long, thudding then mercurial solo and Thompson's wailing violin introduce the key opening lines of The Human Abstract.

Review by Phillip Clark for Gramaphone

... Billy Thompson's extended solos are a joy throughout.

All reviewa in full here...
---

Barbara Thompson & Paraphernalia
Review from Paraphernalia's first gig of the 'Never Say Goodbye' tour at 'Halle' in Kiel, Germany. [Tricky German to translate apparently so do excuse the flowery nature of this article].
Lübecker Nachrichten
Partner in der nordClick-Gruppe nordClick/kn vom 05.11.2005
Tourstart: Barbara Thompson und Paraphernalia in der Halle 400
Kiel - To come back from neverland, means having been there in the first place. For Barbara Thompson neverland was never whereabouts. So it's no surprise that the saxophonist is back on stage with Paraphernalia, after she had withdrawn in 2001 owe to sickness. Unfortunately "Halle 400" was just half-filled. The prelude-concert of the "never-say-good-bye tour" didn't have any soppy character. The ambitious songs and the professional approach of Barbara Thompson and her enthusiastic co-musicians Jon Hiseman (drums), Peter Lemer (keyboard), Billy Thompson (violin) and Dave Ball (bass) were a warrant against a night full of sentimental memories and nostalgic moments.
With two new records in their luggage, a "Best Of" and the new album "Never say Goodbye", upcoming in December, they keep on working with the same well-tried weapons of creativity they have been using since the 70's against old-fashioned listener habits: A fusion of progressive or art rock, also elements of classical music and folk, as well as the omnipresent jazz. Their technical ability and the unbroken virtuosity working with refined rhythmic patterns are a passionate statement for the seriousness of popular music.
Thus the music is full of complexity, it never sounds arrogant, but is always sincere. The acoustics in the half full hall is good, even though the sound seems to be a bit clinical, but this is a matter taste in the end. This blend is extremely important for these breathtaking epical constructs of sound and miniatures of complex tonebuilding. Songs like the classically composed Tuba Concerto, Shifting Sands or Benny Golsons Are You Real would lose their impact without this kind of transparency. The songs are being given time by Paraphernalia, and this way the band revives a long forgotten virtue.
Instead of compressing the musical message in improvised staccato, especially the brilliant Billy Thompson on the violin drives along all the side streets and beaten paths of harmonics. Against every Rock'n'Roll philosophy with Paraphernalia more is actually more. For some this transcendental ardour may seem too much; music might sound talkative then, but never irrelevant. The cause is the improvisatory potential of all the musicians and the surprising understanding of the band members, if you know that this is thgeir first concert after such a long break.
The enthusiastically celebrated concert ends after two hours and three encores with sentimentally effected feelings that obviously no misfortune in the world is able to stop the love for passion.
- Manuel Weber
The Times:
July 15, 2003.

Jazz CDs
... Talking of mellow tones, a compilation usefully gathers up 13 of the quieter pieces by Barbara Thompson. The saxophonist is no longer performing because of Parkinson's disease but is still writing and arranging. In the Eye of the Storm (Intuition) is a does-what- it-says-on-the-tin release. "This is music for relaxing . . . so pull over from the fast lane for a few moments," Thompson purrs on the sleevenotes. Twenty years of tracks show how good she is at creating atmosphere. Her TV theme for A Touch of Frost should attract a listenership beyond the jazzerati, though the violin-fueled Little Annie-Ooh is the loveliest moment. The jagged-edged Bad Blues ensures that we don't sink too deeply into soft focus.
JOHN BUNGEY
Watch & Listen to Billy's Little Annie Solo filmed at Ronnie Scott's, 2001:

'Little Annie Ooh' solo goodquality.mov (3Mb.mov)
In The Eye of the Storm: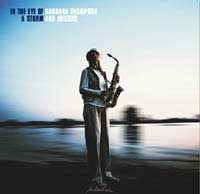 Click on the cover to buy securely with your credit card...
£12.98
Here are two reviews from our 2001 visit to Ronnie Scott's club, London, April 02 - 07, 2001.

London Metro: Thompson's Tangos

Click on the cover to buy securely with your credit card...
£12.98

The Guardian:
---
London, The Evening Standard, Thursday 9th of March 2000.
'Bring on the belly dancers'
BARBARA THOMPSON'S PARAPHERNALIA **

VIOLINIST Billy Thompson added a vital string to his bow when he reached the Sun Alliance Young Jazz Musician of the Year finals two years ago. He didn't win, but his dramatic solos, executed with a photogenic flourish, persuaded one of the judges that he would be ideal for her group. The shrewd judge was none other than Barbara Thompson, no relation but winner of several awards herself, including the OBE for services to British jazz. Sparked by the rock-forged drumming of her husband Jon Hiseman, she performs high energy folk-jazz fusion and Billy's florid style suits that music perfectly.

Apart from playing all the saxes, plus flute, with an expertise one would expect from a graduate of the Royal College of Music, Barbara is also a colourful composer whose latest CD, Shifting Sands reflects a strong Klezmer influence.

Last night her snake-charmer melodies and rolling rhythms had so strong a middle-Eastern flavour that a couple of belly dancers would not have gone amiss on stage. Synth man Peter Lemer and bassist Dave Ball contributed stealthily to the underlying throb as Billy and Barbara strutted their very different stuff.

Jack Massarick.



---

Temple Music review:

Recorded summer '98 this album features Peter Lemer, Paul Westwood, Jon Hiseman, and a new member violinist Billy Thompson (no relation!) making one of the most exciting recording debuts for some time. This brilliant and original instrumentalist joins Paraphenalia for the up-coming tours and fulfills Barbara's long-standing ambition to return to a saxophone/violin front line.

Shifting Sands


Click on the cover to buy securely with your credit card...
£12.98
Review from Paraphernalia's gig at 'Moments' in Bremen during the 'Shifting Sands' tour in Germany. Translated by Denise Thompson.

Weser - Kurier, Bremen.

'Now there is another Thompson'

The English saxophonist Barbara Thompson has directed Paraphernalia for over 20 years. This band, like Ian Carr's 'Nucleus', has a firm place in the language of British Jazz Rock. Paraphernalia's early happy experimenting with what at first seemed like two contrasting components - Jazz and Rock - has given way to a certain solidity. The former 'mixing' of Jazz with free Rock which seemed so completely different to current Jazz structures is seen today as perfectly normal. The ex-rebels are now the established ones who present their Jazz-Rock in ever-new but also well-known forms.

Barbara Thompson herself may have noticed this for after many years touring with the proven and practised quartet - the experienced keyboard player Peter Lemer, her husband Jon Hiseman and for the past five years the bass player Paul Westwood [currently Dave 'Taif' Ball] - she has now integrated a new colour in the form of the violinist Billy Thompson.

This has consequences. The scene in the packed 'Moments. club came alive particularly in the context of 'Thompson versus Thompson' in which the young violinist knew well how to hold his own with the experienced saxophonist.

Billy Thompson can not only play his violin in the well-known sharp Rock manner of Jerry Goodman but is also master of the Arabic metre, of the adept yearning arpeggios of Gypsy or Balkan Jazz and the traditional fiddle tunes of Celtic folklore.

Nor does he in any way hide his light under a bushel, he assumes the offensive so that the leader at one time had trouble in carrying on her ideas and completely left the field to him. An example was 'Shifting Sands' - the title piece of the latest Barbara Thompson album. On the CD this track runs for 19 minutes, in concert with the various soli it was extended to a half hour opus and the violinist fully revealed his skill in the perfect unison playing with Barbara and also in his explosive solo.

On consideration 'Shifting Sands' with its Arabic mutations, contrasting metres and exciting solo escapades was the most interesting piece of the evening. Peter Lemer's 'Blues for Something Funny' reached similar heights in the second half.

A great evening.

Christian Emigholz
---
Review from Red Lick Records:

The Amigos - Gypsymania:
Whoooeeee! This little bugger is a true knockout! It's a British band whomping out gypsy music from all over the world with an unexpected fervour and power, not to mention brilliant virtuoso musicianship and knowledge of the music.

In fact, when I first heard this riotous no-holds barred, right-in-your-face roller-coaster-ride of guitars, violin, accordian and double bass, I thought they had come barreling out of Transylvania or Celejani, Romania - they pump out absolutely knock-out performances that are as exciting as you can get!

The two guitarists simply power every tune along, soloing like crazy, clanging out the rhythm and driving that violin player on to slash out some truly dangerous, wild playing while the accordian player stabs in and out of the mix adding just the right seasoning to the whole rusty bucket of planet soup. A brilliant mix of the traditional and modern stuff. They certainly have soaked up the influences from the gypsy world music scene and like the musicians they love they're not afraid to take on tunes by Rheinhardt and Grappelli, Duke Ellington, Baden Powell and even Ron Kavana and Bob Dylan!

I know people who've seen The Amigos play live and say they're dynamite on stage - I can't believe that they can be any better than they are on this blistering new CD.

Red Lick Records.


Hear two tracks from the album - 'Antara' and 'Romane'.


Review from Buzz Magasine's Dave Reid:

MORE GYPSY JAZZ

© David Reid

Like The Beatles, The Amigos are far from experiencing second album difficulties. Unlike the Beatles, they can really play - (joke). Perhaps more delicately laid back than the first, Alma Gitana holds its fire more subtly; although these lads can let rip to the point where you'd think violinist Billy Thompson is in danger of spontaneous combustion.

Is it folk? Jazz? The Amigos set audiences alight at both types of venue. Nothing like them is happening in Wales. Check it out! And buy the first album as well.

Hear two tracks from the album - 2 The Night! and Letcho Gurgo


Plymouth Evening-Herald, Friday, December 7, 2001
'Billy the star of gypsy jazz'
The Amigos: The Mermaid, Eggbuckland, Plymouth.

MANY members of Plymouth Jazz Club -thought it was the best gig of the year when gypsy jazz band The Amigos played at the Mermaid last Sunday.
They may be a string quartet from Wales but the jazz they played was superb and fully appreciated by discerning jazz followers. Billy Thompson has been Young Jazz Musician of the year on several occasions, His violin renderings from Stomping in Decca to the frenetic finale Dark Eyes, had the audience yelling for more as he performed everything from trad jazz and Hungarian to Latin and gypsy styles. Contemporary music such as Jimmy Rosenberg's Gypsymania, (written when he was 12) and the old jazz classic Tiger Rag, were a couple of highlights in the group's repertoire.
The line-up was slightly different from the one previously advertised, but nevertheless, worked incredibly well. Lead guitarist Gary Phillips sang several songs including Golden Earrings with a distinct Welsh touch. Fellow guitarist Andy King, who first met Phillips at school in Swansea nearly 30 years ago, played rhythm in style while Coughlan, a new addition to the line-up, soloed on double bass.
But Billy Thompson was the undisputed ace of the evening. In him, maestros Django Reinhardt and Stephane Grapelli now have a young rival. Thanks to Keith Robinson for booking such a fantastically entertaining group.
Let's hope to see them back again next year.
DES ROBINSON.
The Glynllifon Festival:

---

Review from David Reid, Music and drama critic, The Cardiff Post, South Wales Echo, Buzz Magazine & The Western mail.

Iff & Butt - Billy Thompson & Andy Maule:
'There seems to be real personal presence in these performances - two personal presences - three in actual fact, with bassist Dafydd Lewis guesting with taste, aplomb and gusto on five tracks.
Billy is inclined to much leaping, bounding and cavorting, rather like a monkey on heat, or Paganini at a fancy dress tea dance wearing some Jimmie Hendrix.
Andy by contrast seems to combine a sense of the lively with the distinctively laid back. The labyrinthine twists and turns of his solos never appears to lose focus of harmony or melody.'


David Reid.


Hear two tracks from the album - Mohawk and Roath Lake
---
"It seems this band can turn their hand to anything. Fronted by the very sexy Ana Gracey, they blaze their way through every emotion, concentrating on good old fashioned lurve of course, but telling it like it is thanks to the powerful mix of passion and realism in Ana's lyrics. Whether perfoming a beautiful ballad, an up-tempo toe-tapper or a dramatic rock number, the band keeps the arrangement tight and the performance slick, exuding an absolute love of music while they play. And if the bewitching violinist Billy Thompson isn't enough to enthrall the audience, then there's Ana's enchanting, emotive voice that fascinates the crowd thanks to raw feeling and lung-defying, flamboyant flourishes. Her lyrics too are spell-binding, turning every day tales of love lost and found into charming vignettes rarely heard in modern music. Add to this her powerful stage presence and almost tang! ible energy, and it's easy to see how Ana and the band hold the audience in the palm of their hands for the duration of the set. With a confidence that comes from genuine talent, Ana talks intimately between songs, teasing the crowd with tit-bits about a track's inspiration one minute, then making them roar with laughter the next thanks to a witty one-liner and a sexy smirk. Definitely a talent in her own right, Ana's finally found an equally blessed set of musicians to add real drama to her well-crafted songs. If this really was her first performance in a year, then the possibilities are endless!"

Mandie Gower (Freelance Journalist)

"As I sat in the Pizza on the Park venue, on Sat 3 August 2003. It became apparent that I along with my fellow spectators were in for a rare treat. Music with depth and feeling. Brought to us by a singer who oozes the X-factor without even realising it. A rare treat, compared to many ego conscious artists who try too hard. But Ana Gracey truly mesmerised the whole audience with her style, sophistication and pure talent. She is a rising star not to be missed-with music as attractive diverse and beautiful as the lady herself. Her unique style and lyrics led to a stunning evening that really did carry you on a musical journey, complimenting her fantastic album.. Of which I brought 3 copies afterwards. Once you see Ana Gracey, and experience her energy and her sound, (and possibly the greatest live band on the circuit check out violinist Billy Thompson) you will be left as breathless and stunned as everybody in that room!!! Well done Ana.....you rocked!!!"

Sarah Bennett (BrightonSoul) Singer/songwriter

Ana Gracey - Innocence


Click on the cover to buy securely using Paypal...
£9.99

---
METRO FACTFILE

A giraffe's heart weighs 25lb, is 2 ft long and has walls up to 3ins thick. It's so big because it has to pump 16 gallons of blood each minute up the animal's neck. A series of one-way valves prevents it pouring into the head and causing brain damage when the animal bends to drink. Giraffes eat 140lb of foliage each day.


More information about Giraffes: www.nature-wildlife.com/girtxt.htm


Not available to buy securely with your credit card...
well you might be able to... but not from Thompsound Music.

A large thankyou to Arthur Williams of Bala for this rare sighting of a ridiculously rotund giraffe defying all scientific logic.
< To Home page